Post by admin on Jan 31, 2017 18:17:25 GMT -8
Axl, Slash & Duff –
Your fans from around the world and GNR Truth wish Axl and Duff the happiest of birthdays this week. For the last 30+ years, you have given so much to your fans, and we are forever grateful for the lifetime of music and memories. Watching the three of you reunite and letting us experience the Not In This Lifetime tour around the world has been priceless, and while we can't exactly send the birthday boys gifts for their birthdays, we wanted to do something to celebrate the incredible tour we have had so far and to commemorate the birthdays of two of our favorite people.
Hallmark characteristics of Guns N' Roses that have always shined through to your fans are generosity and kindness. Not only do your fans adore and revere the music you have all created –together and separately – over the last thirty years, but our love for this band also endures because of the remarkable people who created that music. One example of this is the tenderness and devotion each of you has shown to animals throughout the years. We have loved seeing your pictures with your own (lottery winning lucky) animals, and we have heard your messages of compassion speaking out against animal cruelty all over the world. So, in honor of GNR's longstanding tradition of supporting animal rescue organizations and in honor of Axl's and Duff's birthdays this week, your extended gunner family is giving back to express our gratitude for all that you have given to us.
Thank you all for making the #notinthislifetime tour the tour of our lifetimes, and for continuing to make your fans proud every day. Wishing Axl and Duff the most fantastic of birthdays in 2017….and many, many more! See you at the shows (…and for some of us you may see us at so many of the shows that you get sick of us…

) #GNR4Rescue #happybirthdayaxl&duff #GNRTruth #GunnerGratitude #angelsamonguspetrescue
Love,
Your Fans & GNR Truth
For GNR fans who would like to contribute in honor of Axl's and Duff's birthdays, here are the details:

📌
The Requirements:
There aren't any.

While we would love for fans who donate to become members of GNR Truth and participate in our discussions, it is not a requirement that anyone register or become a member of GNR Truth to contribute to this cause.
📌
The Charity:
The organization we are supporting this week is
Angels Among Us Pet Rescue
.
www.angelsrescue.org/
Angels Among Us Pet Rescue, Inc. is a 501(c)(3), non-profit, volunteer-based organization dedicated to rescuing dogs and cats from high-kill shelters. Their motto is "Rescue One Until There are None." As of August 1, 2015, Angels Among Us had rescued more than 9,000 dogs and cats.
This rescue organization operates throughout the United States, but specifically it was founded in the Atlanta area and is a charity I (prettytiedup) have personally supported many, many, many times because the social media posts asking for help with specific rescues are both heartbreaking and heartwarming when the organization steps in. All donations made to Angels Among Us, a 501(c)(3) non-profit, are tax deductible.
📌
The Instructions:
One of the reasons we selected this organization is because it is easy to donate, and you will be donating directly to Angels Among Us. It also has a place on the online donation form for you to specify "in honor of" for the donation.
A donation in any amount will be greatly appreciated, and even the Angels Among Us donation form itself has an option for a donation as low as five dollars.
The objectives are to show our gunner gratitude for GNR, for this reunion and the amazing year we have had and are looking forward to continuing this year, and to celebrate and honor the birthdays of Axl and Duff.
Any donation you make is going to help accomplish those objectives, and the more fans who contribute, the more meaningful this effort will be and, even more importantly, the bigger the impact the GNR fan community will make by helping more animals get pulled and rescued from kill shelters, obtain the medical treatment they need, and find loving homes to give them the lifetime of love they deserve.
Let's reserve the #notinthislifetime hashtag for this mind-blowing GNR tour and do what we can to make sure it doesn't apply to animals in need of homes and people to love them.
📌
Step (1):
You can make your donation directly to Angels Among Us Pet Rescue in any amount here:
www.angelsrescue.org/donatenow/
You are able to donate to wherever they need the money or to rescue dogs or cats if you would like to make a specific selection.
As you are filling out the donation form, when you get to the question "What type of gift would you like to give?," click the option next to "In honor of." You will see that AAU explains that is how you make a donation in honor of birthdays. In the first name field put "#GNR4Rescue," and in the last name field put "#HappyBirthdayAxl&Duff." (It will all fit; I checked.)
📌
Step (2):
Come back to this thread on GNR Truth and comment to let us know that you made a donation. As long as you use the hashtags or something GNR related in the "in honor of" field there is no need to post how much the donation was for. Truly, every dollar helps save an animal, and we thank you so much for your donation to this worthy cause. We are hoping that if this ever gets back to Axl, Duff, Slash, and the rest of the GNR members and crew that it will put smiles on their faces.
📌
Step (3)
: Share what we're doing on social media so word gets out to other gunners about our special #GNR4Rescue birthday celebration for Axl and Duff and so we can help as many animals as possible, including David Rose. Link back to this post on social media when you share to direct people here so they have the instructions.
gnrtruth.com/thread/6486/gnr4rescue-donation-drive-duffs-birthdays
🔶
The Reason:
There are so many of them, unfortunately. Here is one. Look at this sweet face. Just today as I was typing up this post, Angels Among Us, having no idea that we are hosting this online event, posted on social media making a plea for help for this sweet boy….a sweet boy named David
Rose
. Coincidence? Or maybe this group of fans was destined to make sure this little guy makes it out of the shelter and finds his forever home before Duff "Rose" McKagan's and Axl Rose's birthdays....and we would just like to help as many animals as possible escape from kill shelters and find save and loving homes. (Clarification - While David Rose was particularly touching considering the events sparking this donation drive and the names of our honorees, you can make the donation to AAU wherever it is needed or specify just dogs or just cats. The important thing is to mention #GNR4Rescue in the "in honor of" section so that we can tally up the success of the rescue efforts in honor of the birthday boys.

)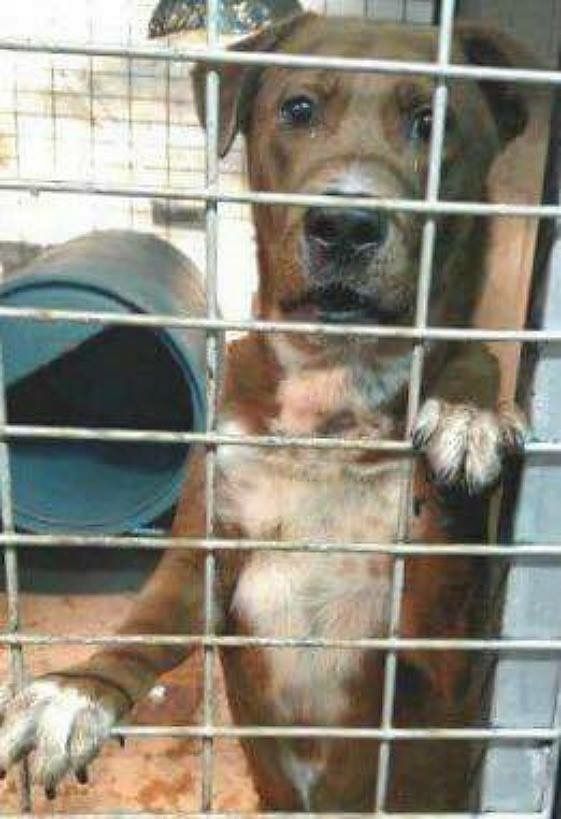 **
The Disclaimer:
This fundraising effort is not associated with Guns N' Roses, any member of Guns N' Roses, or the management team of Guns N' Roses in any way. This is solely a grass roots, fan driven effort to honor Guns N' Roses, to send a message of gratitude from their fans, and to celebrate the birthdays of Axl and Duff in a tangible way that they may appreciate and that spreads some kindness and good in the world to animals without homes and families to love them. There is no obligation for anyone to donate, and any fan may donate as much or as little as he or she would like. There is no obligation to be a member of GNR Truth to donate to this cause. It is simply a charity with which we are familiar and that we know rescues animals in danger of being euthanized on a daily basis, and as fans of GNR we viewed philanthropy of animal rescue as a cause we have seen many GNR band members visibly support over the last three decades.